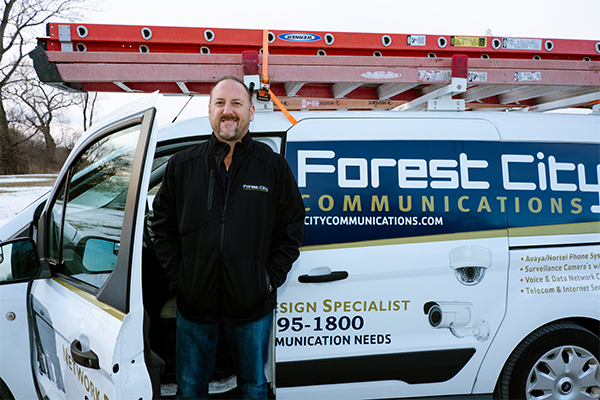 Meet Chad Davies, President of Forest City Communications
Forest City Communications (FCC) is a premier choice for business telecommunication systems and phone systems. We have serviced customers in the Rockford and surrounding areas for over 20 years.
We offer a free cost analysis of Internet and phone bills for our customers to ensure maximum savings. FCC is an Avaya business partner and installs AVAYA/ NORTEL phone systems.
Our staff provides the highest level of customer service in the industry. All of our technicians are certified and required to stay up to date with all current technologies.
Our other services include installation, service, and repair of security cameras, loudspeaker paging, wiring for voice & data jacks and router configuration.
If you are indecisive about selecting a local company for your upcoming commercial project, you should meet Chad and Quinton! Chad has been working in the industry for over 20 years, and Quinton for over 15 years. They enjoy the opportunity to meet new people in the community and provide technical assistance whenever possible.
Forest City Communications would be happy to help you find the best technical solution for your business. Call us today at (815) 395-1800 to guarantee that your business telecommunications and security cameras operate efficiently and effectively. Our estimates are always FREE with no obligation.