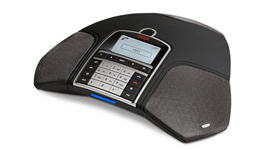 Let us show you why Avaya is the best choice for your business phone system. Do you think that the size of your business means that your employees need less functionality than those of a larger enterprise? Do you think that only large enterprises need to converge their voice and data networks to save money, enable feature rich telephony, improve user productivity, and adopt powerful applications? With Avaya, you don't have to give up on the idea of leading edge converged technology applications that can help you grow your business with rich telephony features and voice quality and reliability. All of the same world-class features of our telephony solutions that we have been engineering for many decades are offered by Avaya on traditional voice networks and on pure Internet Protocol (IP) networks, and on platforms specifically designed for small and medium businesses or branch offices of a large enterprise.
Imagine a solution that meets your communications needs today and tomorrow. Think how great it would be to have full feature functionality of a large PBX and data networking and value-added applications all in one integrated system.
Does this sound too good to be true? The Avaya IP Office system, Convergence magazine's 2002 Convergence Product of the Year, Telephony magazine's 2003 Product of the Year, VARBusiness magazine's Tech Innovations in 2004, SearchNetworking.com magazine's Product of the Year for Converged Network Solutions in 2004, and Internet Telephony magazine's Product of the Year 2004 and Product of the Year 2005, and Customer Inter@ction Solution magazine's CRM Excellence Award in 2006, and Internet Telephony magazine's Excellence Award in 2007, Excellence Award in 2008, and What to Buy for Business 'Best Buy' in 2009 provides world-leading solutions designed for small and medium-sized businesses in an integrated, modular and scalable package. Avaya's deep understanding of small business needs enables them to deliver the same capabilities that large companies enjoy, at an unmatched price and performance, in a simple-to-use and cost-effective system.